Home >> Information
INFORMATION
Stone is a tactile and versatile material and it is an exciting experience to watch finished stone emerge in multifarious forms from a piece of rock. The processing of natural stone starts at the quarry where a section of solid rock is found and blocks are separated from it with as little damage to the stone as possible.
Heavy equipment are used to transport the blocks of stone from the quarry to the processing yard where they are sawed into tiles and slabs. Secondary sawing reduces the slabs into dimensional masonry. More intricate work can be carried out on profiling saws and planing and polishing machines and of course by hand. Hand working of stone, however, retains an essential place in the last stages of processing, when highly skilled masons work the more detailed stones to their finished form.
Sophisticated methods bring better results than brute force and modern technology can be applied. The aim of using latest technology programs is to make the sector more internationally oriented and to solve the problems of quarrying and processing so that the material which is of high quality and needs little care could be more widely used in buildings and other construction works. The natural surfaced blocks are cut into pieces of varying thickness and sizes, as required. The surface is then given the required textures with different finishes.
Honed or polished surfaces are achieved by grinding the cut face with successively finer grades of abrasives. Sandstone and limestone are often available in honed finish. Marble and other harder limestone can be polished. To achieve the true color and pattern of natural stone, polished surface is the most popular among different types of stone surfaces as it does not change the nature of the stone.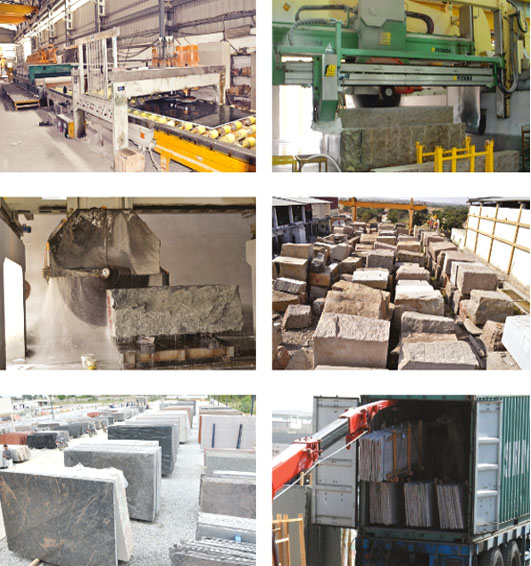 STONE FINISHES
Stones have different finishes or surface textures according to their formation. But these days, stones are fabricated to give desired surface textures. There are seven main types of surfaces that are in use:
Natural
The natural surface texture is achieved by ripping along its line of cleavage to reveal the natural grain & texture, which gives an undulating surface with great character. The surface comes with natural clefts giving a very natural look.
Honed
It is produced by grinding a surface with high grit material to a uniform specification, without producing a reflective surface. Honed stone colors are not as vibrant as polished stones. A smooth finish with a slight sheen is produced by using a polishing head. This surface is very smooth, but often very porous. Honed finishes, unlike polished finishes are not reflective. The honed finish is a satin smooth surface with little light reflection.
This finish is often used on walking surfaces and other areas where heavy traffic would wear off a polished finish. Honed finishes are used in interior wall covering. It can also used on the exterior in warm environments, table tops, very light duty residential flooring, novelty items, etc.
Polished
Polished surface texture is a reflection of polished crystals that bring out the brilliant colors and grains of natural stones. The shine on stone surface comes from polishing bricks and powders used during fabrication and not from any coating. Polishing can be done only on crystallized stones and doesn't affect the porosity of the stone. Polished finish is quite popular as it enhances the colour and markings of the material. A stone with a polished finish is very smooth and reflective.
This type of finish is used in reception areas, where marble, granite and some harder limestone are laid.
Flamed
It is a rough surface that is developed due to the bursting of crystals when the stone is heated. This surface gives an irregular textured finish. The flamed finish is a rough texture used frequently on floor tiles and vertical applications. Color and particulate or vein patterns vary from block to block. The major uses includes - chemistry and fire resistant work surfaces, fireplace facings & inner hearths, etc. where heat is an issue.
Sand Blasted
Producing a finish similar to cleft, sand blasting involves projecting a high-pressure airline coarse-grained grit, onto the top surface of the stone. It is characterized by a textured surface with a matte gloss.
STONE APPLICATIONS
We provides you the best of natural stones for building construction and landscaping. We sell natural stones in all finishes which finds numerous applications. All of our products are available for immediate shipment throughout the year. We have hundreds of eye-catching and functional products to choose from to meet all of your project needs.
Roofing
We provide a stellar range of roofing options in the form of diverse varieties of slate and sandstone. These roofing options are highly durable with excellent weather resistant properties. With our vast experience and expertise, we understand customer requirements and provide suitable roofing solutions that suit their requirements. Our roofing solutions have been widely appreciated by our customers over the years.
-------------------------------------------------------------------------------------------------------------------------------------------------------------------------
Wall Cladding
We manufacture & export a wide range of natural stone & stone tiles for wall-cladding that enhance the aesthetic appeal of any decor. Our wide collection of wall-cladding stones & stone tiles is available in varieties of granite, slate & sandstone. The wall cladding options we provide are known for their durability & lightweight nature. Their corrosion resistant properties & resistance to chipping, cracking & peeling make them an ideal option for any interior decoration need in terms of aesthetics & functionality.
-------------------------------------------------------------------------------------------------------------------------------------------------------------------------
Stone Paving
Paths that lead through the garden & courtyards are beautifully defined by our natural stone tiles used for paving. We specialize in providing paving in the plan patterns to emulate wood, without losing the durability and longevity of natural stone. We provide paving in a wide range of pebbles, cobbles, sandstone and limestone.
-------------------------------------------------------------------------------------------------------------------------------------------------------------------------
Flooring
From interior to the exterior decor, we provide a fine selection of natural stone tiles and slabs for flooring purposes. The stone tiles we provide are highly durable and have excellent weather resistant properties. Our range of flooring tiles & slab stones are available in wide varieties of marble, granite, sandstone, limestone, etc.
-------------------------------------------------------------------------------------------------------------------------------------------------------------------------
Bullnose, Steps & Risers
We provide a wide range of steps, risers and bullnose varieties for construction and decorative interiors. Manufactured from various varieties of sandstone, limestone, marble and granite, these products are crafted to give the outdoors a classic, finished look. They can be crafted to desired specifications using materials & colors as per the choice of customers.
-------------------------------------------------------------------------------------------------------------------------------------------------------------------------
Landscaping
Landscaping is one of the most significant elements that go into providing a contemporary look to gardens. With our wide range of impeccable natural stones & stone tiles, we provide a vast range of landscaping options to highly reputed builders & well-known construction companies. Our wide selection of landscaping options provide our customers with a world of decorative choices for building and enhancing their dream garden. Just have a look at our decorative stone pebbles and cobbles, which are highly appreciated by the architects the world over.
STONE EDGES
Edges of a tile or slab have different finishes and smoothness depending on the way they are cut. The edges play a major role in the overall appearance of the architecture they are used in. Tiles or slabs with fine edges can enhance the way ceiling, flooring or any other exterior or interior looks.
Basically there are three different edge finishes available, which are as follows:

Machine cut / Sawn Edges
Hand chiseled / Hand dressed Edges
Chamfered / Beveled Edges

Machine cut / Sawn Edges
Tiles or slabs with machine cut / sawn edges are the commonly used types of edges. The fine edge finish simplifies the work of the fitter as these slabs or tiles fit perfectly. The machine cut / sawn edges slabs are subjected to a high speed rolling cutter blade to get a very smooth edge surface with a complementary (90°) angle at the vertices of the tiles/slabs.

Hand Chiseled Edges
Hand chiseled or hand dressed edges are best suited for exterior walls and pavements. This type of tiles is first cut into different sizes and then, the professional worker works upon it to achieve the smoothness. This edge finish is very much similar to natural surface finish and hand dressed edges are a good combination with natural surface finish.

Chamfered Edges
The chamfered edge slabs looks classic on exterior walls or any part of interior. These slabs are most commonly find place in kitchen tops or on table tops. Chamfering the edges requires two processes of sawing and polishing. Chamfering removes the shine and whiteness of sawn edges.