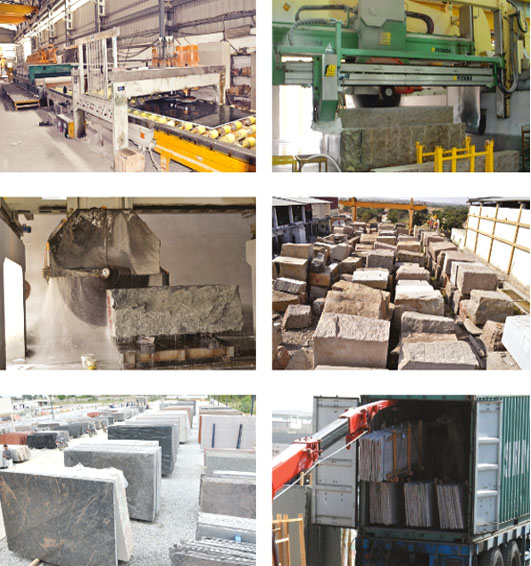 We have established a multifaceted infrastructure, well equipped with the modern machineries and latest technologies, which aids us in meeting the growing needs of the customers and help us in completing the orders of the clients within the stipulated time. A team of experienced professionals is recruited by us to look after and maintain all the activities of our infrastructure. Owing to all these advanced machines and equipment, we have been able to meet the bulk requirements of the patrons within postulated time-frame. We foster technological advancements and owing to the modernized work set up we are able to expand our production capabilities. We have installed highly advanced manufacturing base, which comprises of fully automated machines for processing, finishing and packaging of natural stone products. Further, our integrated work set up is constantly upgraded to cater to the futuristic industrial needs of our esteemed clientele.
We have a well-developed processing unit spreading in a huge area . Our granite unit have hi-tech processing system enables us to manufacture high quality products in customized finishes. We use the latest data imaging and drawing techniques to aid our professionals in designing the specification given by clients. Our high tech equipment which aids us to flawlessly conduct various involved processes includes :
Multi blade cutter machine
Single blade cutter machine
Block dressing wiresaw
Line polish machine
Crane
EOT
Rasin Line
Brige edge cutting
Backed by proficiency and our state of the art machinery we have always been able to meet the demanding quality standards expected in the international market. We believe in changing with the altering scenario and for that we frequently revise ourselves on the changing technological so that we can handle global challenges.